Gillon McLachlan is the CEO of the Australian Football League (AFL) and has been since April 2014. He served as deputy to the previous CEO, Andrew Demetriou, who held the role from 2003 to 2014. McLachlan has had a role in the world of AFL many years, along with a business career outside of the AFL.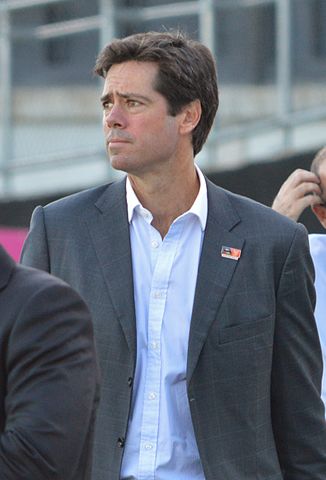 Early life
McLachlan was raised in Mount Pleasant, South Australia, and is the eldest of four brothers. He completed high school at St Peter's College in Adelaide, before obtaining a Bachelor of Commerce from the University of Adelaide in 1995 and a Bachelor of Laws (Honours) from the University of Melbourne the following year. Afterwards, McLachlan completed the famed Senior Executive Program at Stanford University.
Footy career
While at university, McLachlan played for the Melbourne University Blues in the VAFA (Victorian Amateur Football Association). He played as a ruckman, was captain and was even awarded the best and fairest player in 2000. In 1996 and 1997, McLachlan was also featured on the Carlton Football Club's supplementary list.
Professional career and return to AFL
McLachlan worked as a management consultant for Accenture after graduating from university. In 2000, he became a strategy consultant to the AFL, while Wayne Jackson was CEO. Before becoming CEO, McLachlan played a seminal role in the development of the two newest expansion teams (the Gold Coast Suns and the Greater Western Sydney Giants) and supervised the AFL's investigation into the scandals affecting the Melbourne Demons and the Essendon Bombers.
McLachlan acted as General Manager of Commercial Operations, before becoming Chief Operating Officer in 2008. In 2012, he was appointed Deputy CEO, before turning down several CEO positions with over rival sporting codes and clubs, including the NRL and even Liverpool F.C. in the English Premier League.