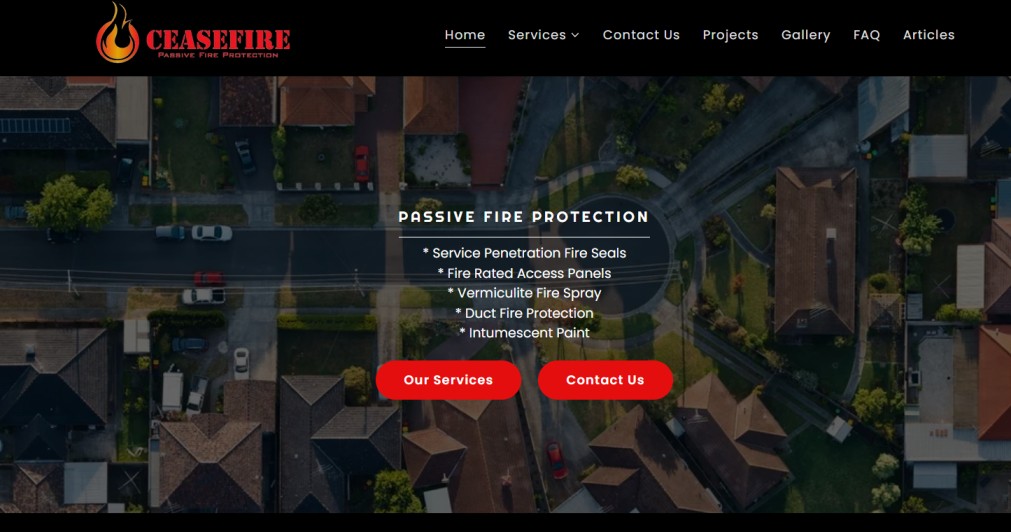 Fire has the potential to break out at any moment for a range of reasons. Fortunately, there are ways to prevent the likelihood of this happening, however. There are safety measures that you can implement in your residential and commercial property that prepare the building to withstand fire hazards. This is a highly important service to consider as it can protect you and your residents while also ensuring that your building meets the legal requirements for reducing fire hazards. With a company such as Ceasefire you will have the peace of mind that you have done everything in your power to prevent fire dangers.
In only a few years, Ceasefire have become the top passive fire protection company in Sydney. They are renowned for their ability to handle both small-scale and large-scale projects in an efficient and thorough manner. Their knowledge of the necessary precautions to take when fire proofing your building is unmatched. Everything they install and implement is up to scratch with the guidelines outlined by the Building Code of Australia (BCA), ensuring that you are safe. The team are friendly yet also diligent and have keen attention to detail. This means that you will feel confident that they have gone above and beyond to meet the necessary requirements for fire safety in your property.
Whether you are undergoing a new construction build, a restoration, or a repair, Ceasefire are the team to call. Some of the most notable projects that they have worked on over the past few years include Sydney Football Stadium and Sydney International Airport. They are able to work within a time frame that suits you and will meet deadlines while also ensuring that they have comprehensively set your property up with passive fire protection equipment. Their services include, but are not limited to, duct fire protection, structural steel installation, vermiculite ceilings, firespray and fyrewrap application, fire seal and penetration installation, fire and smoke barrier installation, and more. All of these procedures contribute to the minimising of risk and are proven to increase the level of fire safety in buildings of all kind.
Ceasefire are available 24 hours a day to perform their services or answer any questions that you may have. They also have a large network of suppliers and partners that are ready to deal with any issues. They are dedicated to resolving problems in an efficient and thorough manner as they understand how important your safety is. Their communication skills and expert knowledge are why they have become the top passive fire protection company in the Sydney area and beyond.
Whether you are the owner of a residential property or a large commercial property, Ceasefire can provide actionable solutions for protecting you from fire, and all for an affordable price. As the experts in safety, they utilise their years of passive fire protection experience to prevent fire related disasters long before they have even had the chance to occur.